Happy Monday Everyone!
The perfect way to start off the week is with this faux leather snake print mini skirt. It's so different and I love it paired with a simple black bodysuit and I was even thinking about pairing it with a red sweater. This would be a perfect Holiday Party outfit when paired with a red sweater.  I also am loving over the knee boots lately and I think they really lengthen the look of your legs. I am 5'3 so I'm pretty petite and I haven't had any issues with boots being too tall. These Steve Madden ones are such a great find they feel designer at a quarter of the price! Its hard to come across a pair of quality boots that are at this price point. Another thing I really loved about these ones is there is a zipper so they are way easier to get on then some boots I own that you literally need someone to help pull them off LOL.
Hope everyone has an amazing Monday and an even better week! As always I would love to hear from anyone so please feel free to comment or send me an email! I will like all outfit details below.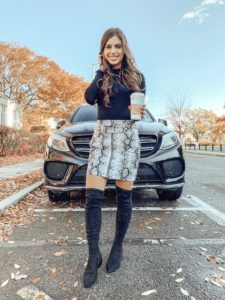 Black bodysuit HERE ; My Faux Snake Print Skirt HERE ; OTK Boots: HERE