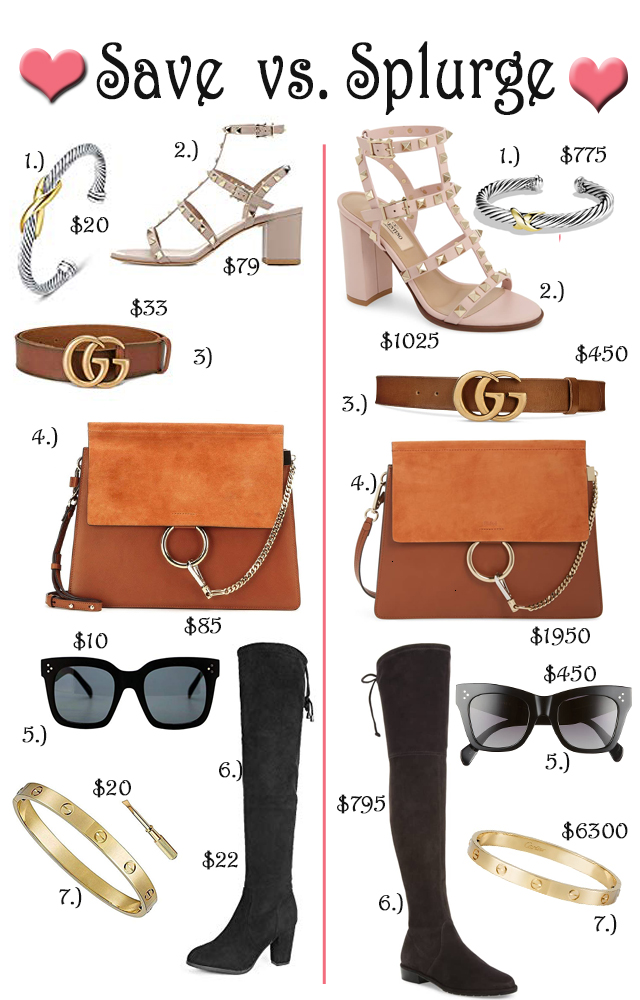 Let me just start by saying I will be the first person to admit that I LOVE my designer stuff. Getting something new to add to my collection is always so exciting for me. With that being said I also like to pick and choose what I buy designer and what items I purchase that look exactly like the designer item, except at a fraction of the cost. Honestly, all of these designer dupes are SO good like to the point where I don't think I would have any idea if it was the real designer item or the dupe. I have also linked everything below just click the name of the item and it will link you directly to where you can purchase. Hope you guys like this let me know what you think!
1.) David Yurman Bracelet vs Amazon dupe – okay how good are these though!? I own a few David Yurman cable bracelets and then I bought a few of these ones I found on amazon and they are absolutely beautiful and I pair them with the real cable bracelets and you can absolutely not even tell the difference. These David Yurman bracelets are usually upwards of $500 so I think these are an amazing option at $20. I have had so many of you reach out to me about these bracelets saying how much you love them and I totally agree!
2.) Valentino Sandals vs. Valentino Dupes – I opted to buy the dupes of these sandals because I dont think I will get enough use out of them to wear enough. Here in NJ when more then half of the months out of the year are sweater weather months, I find I only have a very short window to wear these. They are both absolutely gorgeous sandals and I think either option is a good one! BUT if you would rather spend $79 compared to over $1000 the dupes are such a great option!
3.) Gucci Belt vs. Designer Dupe– This is probably the best designer copy belt I have found. I own a few different colors of these Gucci belts and you can not tell the difference between them at all.
4.) Chloe Bag vs. Designer dupe – I am OBSESSED with this bag. I have always loved Chloe bags so when I saw this one I was so exited.
5.) Celine Sunglasses vs. Amazon Sunglasses– I love these sunglasses so much! I almost like the way the Amazon ones look better then the Celine ones. I do have to say these are a good splurge item. I have had a pair of Celine sunglasses for about 3 years now and I love that they never go out of style.
6.) Stuart Weitzman OTK Boots vs OTK Amazon Boots- These are such a great option for Over the knee boots. They are $22 on Amazon Prime and have the tie in the back. I find the over the knee boots with the Tie back are the way to go. I found that when there is no tie on the back of the boot they don't stay up as well.
7.) Cartier Bracelet vs Similar Version – I love Cartier bracelets but with the $6300 price tag that is a MAJOR splurge LOL soo I found this one on amazon that is very similar. I am not sure of how well it will hold up since it is only $20 but it's definitely very similar looking!
Win a $400 Amazon Gift C
Win a $400 Amazon Gift Card by just giving a few minutes of your time!
How to enter
Entering is easy! Use the widget below to enter. You can earn points for every action you take (follow someone on Instagram, click through to a blog post, etc) The more actions you take, the more points you win! The widget will randomly pick a winner, so your odds increase with the more points you have!
Make sure to actually do an action as we check to make sure you really entered correctly and will not award prizes to people lying