Hi Friends!
So the holiday season is finally upon us so bring on the gift guides! This is going to be the first of a few gift guides I am going to be doing this holiday season so I would love to hear if anyone wants to see anything specific! This fist gift guide is going to have a ton of stuff under $50- many of the items are even under $30.  So there is something for everyone here. Whether it be stocking stuffer or gift for a family member there are a lot of option that I am going to link here for you guys!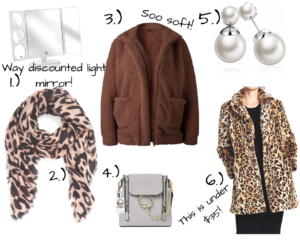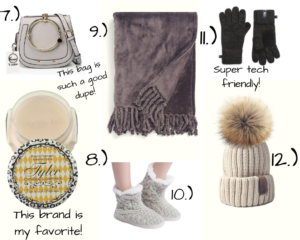 1.) LED Vanity Makeup Mirror– This has to be one of the best things I own to date! This seriously changed how I put my make up. The light is amazing and it allows you to see every ounce of makeup you are putting on. No more going out into the sunlight and wondering if you had a mirror in front of you while doing your makeup LOL! It's also way cheaper then the $200 Riki one and works just as well.
2.) Leopard Scarf– This makes such a great gift for any female. Its simple and matches with so much. I wear my leopard scarf at least once a week during the winter months. It adds to any outfit and you can be any age and its still going to be a stylish piece in your wardrobe. This scarf is also under $20 from Nordstrom and great quality.
3.) Teddy Bear Hoodie– I'm not one to spend a ton of money on trendy items- and one of this seasons biggest trends is these super soft teddy bear hoodies. This one is very decently priced and is under $40. Its super soft and soooo warm. I can see myself sitting in this in my house this winter while its snowing. SO cozy and makes a perfect gift.
4.) Designer Dupe Backpack– This backpack is AMAZING its actually on my Christmas list.  Backpacks are the biggest hit this season, so instead of spending thousands of dollars on a designer backpack, you can get this one for WAY cheaper. This one is around $70 but there are certain colors you can get for under $50. It seriously looks EXACTLY like the designer one and comes in a ton of different colors.
5.) Pearl Earrings– My friend sent these to me today and I was instantly in love with them! They are under $10 and soo cute. They are super simple and make a great stocking stuffer or even a great gift to a friend. I will 100% be purchasing a pair of these to wear this holiday season.
6.) Leopard Jacket– I have had my eyes on this jacket for some time now. All last year I kept seeing them everywhere and I couldn't get myself to spend $100 on a jacket like this.  This one is under $35 and looks exactly like all the ones that are over a $100.
7.) Designer Dupe Crossbody Bag– This is another designer dupe I have been obsessing over! It looks identical to the designer one and comes in a ton of different colors. Its under $45 and would make a perfect gift!
8.) Tyler Candle Co Candle– this is BY FAR my favorite item on this entire list. These candles smell UNREAL. I get the scent "high maintenance" and its my absolute favorite. I also get their laundry detergent in this same scent. It definitely is on the pricey side for laundry detergent but I love to do my sheets and towels in it because it smells that good.
9.) Plush Blanket– This is probably top 3 of my favorite things on this list. Firstly because it is SO soft and cozy and also because its under $40 which is unbeatable for a blanket that is both great quality and is cute enough to be left out on your couch.  This blanket is the perfect gift for someone hosting a holiday party at their home or anyone who loves cozy stuff! (who doesn't though?)
10.) Slipper Socks– OK lets me honest here-who wouldn't want a pair of these slipper socks?! I basically live in slippers during the winter months. This is another great stocking stuffer and is perfect for people of all ages.
11.) Tech Friendly Gloves– These gloves are perfect for that person who is always on their phone. They are tech friendly and your touch screen on your phone still works while wearing these, which if you have ever worn gloves before your touch screen on your phone absolutely does not work while wearing normal gloves lol (I've tried).
12.) Pom Pom Winter Hat– Last but not least THESE HATS. I'm slightly obsessed with anything that has pom poms on it this season (the more the better) I think I have about 5 pom pom hats that I rotate between during the winter. There are so many of these so I will include some of my favorites in all my gift guides this holiday season.
Hope everyone can find something out of this for someone on there Christmas lists! If you have any questions or want to see something specific please let me know by commenting or sending me an email!