Hi Everyone!
I wanted to share a few of my absolute favorite items with you and a few items that are on my holiday wish list this year! I love asking for useful items that I am going to use for many years or items that I am going to be using on a very regular basis. I have linked a few items for you guys below!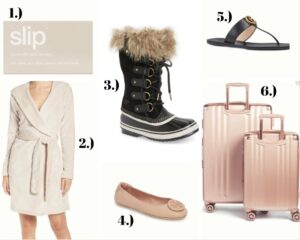 1.) Silk Slip Pillowcase – I have heard nothing but amazing things about this pillow case. I currently do have a silk pillowcase from Amazon and I do like it but I find that I continuously have to get a new one and it's only silk on one side.  This pillowcase is 100% silk inside and out and is highly recommended by doctors, hair dressers and beauty experts alike.   It is good for anti aging and for your hair. It is described as an 8 hour beauty treatment for you every night so this is definately on my wish list this year!
2.) Ugg Robe– My parents got me this robe for Christmas last year and I literally wear it all year round. It is soon soft and cozy and I look forward to putting it on everyday LOL. It is a little expensive for a robe BUT I promise you will get soon much use out of it and will not be disappointed.
3.) Sorel Snow Boots– These are on my Christmas list this year! I have been seeing these Sorel boots for years now and I didn't think I had a need for them until these last few years with all the snow we have been getting in NJ. My Hunter rain boots are just not cutting it for the snow anymore.
4.) Tory Burch Flats– I wear these flats almost everyday to work and they are so comfy. I have never really been a huge fan of flats because I have always found them to be pretty uncomfortable. These flats will mold to your feet after wearing them a few times- I didn't believe this at first but I can tell you first hand they absolutely do and I have multiple pairs of these now.
5.)Gucci Marmot Sandals– I have been wanting these since I saw them in the Gucci store in NYC last year but couldn't get myself to spend this much on sandals. This would make a great gift and they match with so much. I am obviously thinking of warmer days looking at these sandals!
6.) Calpak Roller Luggage– This was another Item I received as a gift for Christmas last year. My Husband and I were gifts the Rose Gold and Black luggage sets and I must say they have held up really well. We took a decent amount of flights this year and although the luggage did get a little dirty, well my rose gold luggage not so much the black bags, they held up extremely well and are large enough to fit everything you need.  It's such a useful gift and something that anyone can use for years!