Okay everyone not going to lie here I loooove my designer items and my husband will be the first one to agree with that (haha sorry Mark!) Sometimes though these items can run you A LOT of money and I will be the first person to admit that I can usually totally tell the difference between a designer item and a copy/dupe of an item. That being said, most of the time I really don't think its worth it to spend a ton on certain items. First on my list is clothing. I rarely think its worth it to spend a ton on designer clothing. There are so many cute options that resemble expensive designer pieces and are a quarter of the price. I personally wont spend tons of money on clothing because I know I wont get much use out of it. Bags and jewelry though are a whole other story…and shoes..sometimes haha! I really think its depends on the item and personal preference though.
I went through some of my favorite items I own and compiled a list below of the designer and duplicate option. Everything is directly linked! Let me know what you guys think!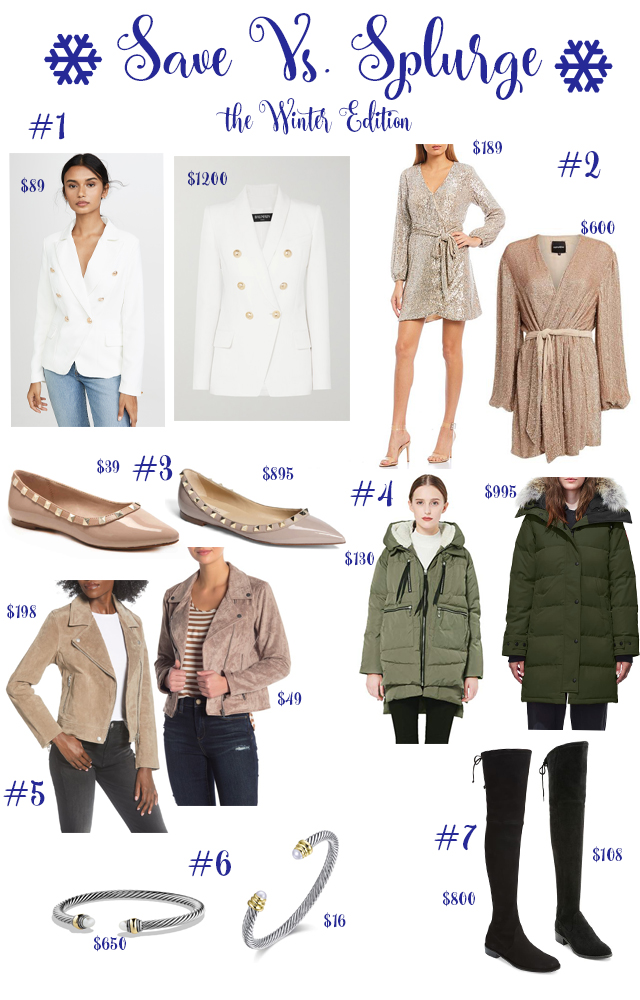 # 1 Balmain Blazer / Lioness Blazer– Ok this one is a no brainer for me. I own two lioness blazers and I LOVE them. I get so many compliments on them and have been told so many times this looks exactly like the Balmain blazer and its only $80.
#2 Retrofete / Sequin Dress – For me I think its important to spend a little extra when it comes to sequins so both options aren't exactly "cheap". I feel that sometimes sequins can look a little cheap when the piece is not well made. Both of these dresses are extremely well made and great brands. I would choose either option with these depending on how much you want to spend!
#3 Valentino Flat / Studded Flats – I love both of these! Both are so perfect for work and can easily be dressed up or down.
#4 Canada Goose Jacket / Amazon Jacket – I own a Canada Goose jacket and they are VERY warm and worth every penny. That being said, if you don't live somewhere cold its probably not worth the investment. This jacket from Amazon was on Oprah's favorite things list and I have see so many people walking around in this coat in New York City. I have also heard so many good things and its also a quarter of the price.
#5 BlankNYC Jacket / Blank NYC Sale Jacket– so these are the exact same brand and almost identical jackets except one is double the price (the more expensive one is actually on sale right now for just under $100 but usually is closer to $200)
#6 David Yurman Cable Bracelet / Amazon Bracelet – I absolutely love DY Jewelry but recently, there are soo many amazing dupe options out there. I purchased a few of the amazon ones and I mix them with my David Yurman ones and you can barely tell the difference.
#7 Stuart Weitzman OTK Boots / Dolce Vita Boots – The Stuart Weitzman OTK boots are amazing and I wear mine all the time so I do think they are worth the investment. I also have a pair of Dolce Vita ones and I think these are amazing quality for the price as well. They are currently on sale for $108 down from $180.

Hope you guys enjoyed this and have an amazing week!
xoxo Tara