Good Morning Everyone and Happy Thanksgiving!
I wanted to share one of my favorite outfits with you from Express since they are one of the stores who started their Black Friday Deals a little early. This outfit is one that can double as something I can wear to the office and something I can wear on the weekend! I love getting the most out of my clothes and being able to dress an outfit up or down depending on where I am going. I found the cutest (and most comfortable) leggings the other day and thought they would be so cute to wear with a dark green sweater for the holiday season!
I paired my leggings and sweater with my Rockstud Valentino Pumps, but this outfit can easily be paired with some black booties or flats and can be worn to work and dressed down a bit. I love Express so much because I find a lot of their clothing to be super versatile and very affordable, especially when they have a sale like they are this week at 50% off! I have found items that I can wear to work as well as items that I can lounge around the house in at Express and the quality (and price!) never disappoints.  Be sure to check out their black Friday deals they have one of the best Black Friday Promos of the year from my past experience with them and this is definitely a store that is worth shopping at on Black Friday!
Express also has so many other cute items that you should jump on ASAP! The Teddy Bear sweatshirts are soo amazing and make a great gift. They sell out really fast too so I always try to get these items early on in the holiday season. I hope everyone has an amazing Thanksgiving with their families and eats lots of yummy food! I think its of of the few days calories don't count right?! LOL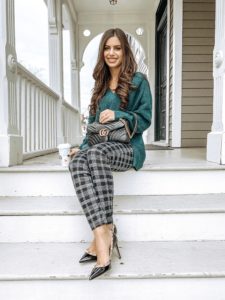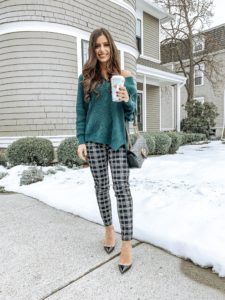 Plaid Leggings:On sale & 50% off (I am wearing a size XS); My Green sweater is HERE this is also 50% off today and I am wearing and XS; Valentino Rockstud Heels